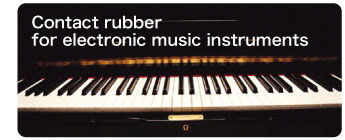 Contact rubber is the main manufactured goods of our company it is assembled right under the keyboard of high-class electronic organ and electronic organ.
We always beat our competitors by the performance and the high quality it shows the height of our technology and quality level regarding the silicone rubber switch.
Our company has the following feature.

we can design the shape of the rubber spring which makes peculiar feeling.

Raw material development for high durability.

Printing technique for the conductive contact point which guarantees stable electric current for years.

By using 3D-CAD, we can design the mold which has the dimension, the load and feeling in minimum tolerance.

Development of the injection machine, in order to produce the precise rubber spring for the keyed instrument.

Market claim zero record has been renewed by our severe quality control system for over 36 years.